On-site Activites and Features
There are many outdoor activities available at our location. Relax and enjoy a cup of coffee on the patio or pier in the early morning and listen to the birds. You may get lucky and see a bald eagle or a pileated woodpecker. Take a canoe for a paddle around the lake. You'll be able to make each day as exciting or relaxing as you'd like.
Swimming
Fishing
Boating
Lake-front Fireplace
Biking
Walking / Hiking
Bird watching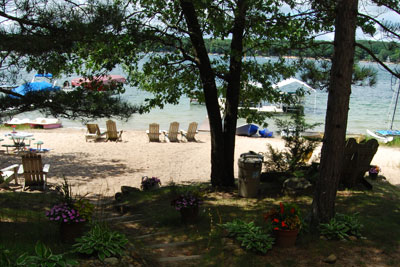 Local Attractions
Below is a list of just some of the exciting central Wisconsin attractions located near Happy Days Resort. To find additional attractions and events, please feel free to ask us, or visit http://www.travelwisconsin.com
Wisconsin Dells
We are located only 45 minutes from the Dells. While it's claim is "the Waterpark Capital of the World", there is much more to the Dells.
Visit http://www.wisdells.com to learn about all that the Dells has to offer.
House on the Rock
"The House on the Rock is the grand vision of Alex Jordan, who believed that sights and sounds were the most effective means of stimulating the senses."
Visit http://www.houseontherock.com for more information.
Crystal River Canoe Trip (Ding's Dock)
"The Crystal River Canoe trip is a 3 hour adventure to be enjoyed by all ages. Two people ride in a specially made canoe and begin the thrilling and scenic journey down the river, which averages about 2.5 feet in depth."
Visit http://www.dingsdock.com for more information.
Golf
Thal Acres Links & Lanes – N6109 County Road M,
Westfield, WI 53964-8212 – (608) 296-2850 ‎
Two Oaks North Golf Club – W6650 Meadowlane Court,
Wautoma, WI 54982 – (920) 787-7132 ‎
Waushara Country Club – 2410 Hillside Drive,
Wautoma, WI 54982 – (920) 787-4649
Pioneer Mini Golf – 122 North Pioneer Park Road,
Westfield, WI 53964-9098 – (608) 296-3996